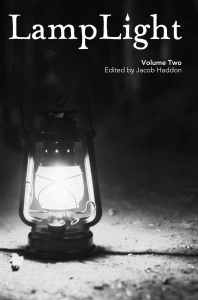 This second annual anthology from LampLight Magazine collects the four great issues from September 2013 to June 2014
Includes the complete novella, The Devoted, featuring Jonathan Crowley,  by James A Moore.
Fiction and interviews from our featured writers: Norman Prentiss, Kealan Patrick Burke, Mary SanGiovanni and Holly Newstein.
J.F. Gonzalez continues his history of the genre in his Shadows in the Attic series. LampLight Classics brings you some great classic stories.
Fiction by: Michael Knost, Christopher Bleakley, Emma Whitehall, David Tallerman, M. R. Jordan, Lauren Forry, Dave Thomas, Arinn Dembo, Bracken MacLeod, doung jai, Tim W Boiteau, Alethea Eason, Lucy A Snyder, Colleen Jurkiewicz, Curtis James McConnell, Victor Cypert, Catherine Grant
Cover Images, CC-by,  Oleh Slobodeniuk