Kindle – Smashwords – Nook – Kobo – iBooks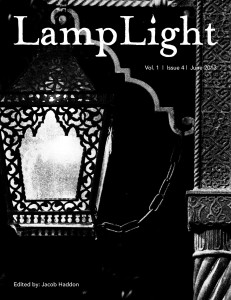 Issue 4 of LampLight is here. Our Featured Artist is Elizabeth Massie. Her story, which is loosely connected to her upcoming novel, Hell Gate, takes us to Coney Island in the turn of the 19th century. J.F. Gonzalez talks about the importance of The Horror Show, edited by David Silvia. Kevin Lucia brings is the stunning conclusion to his serial novella, And I Watered it with Tears.
Fiction by: Mjke Wood, Delbert R. Gardner, Michele Mixell, Sarah Rhett, Armel Dagorn and E. Catherine Tobler
Featured Artist – Elizabeth Massie
Flip Flap – Coney Island, 1898. Turn of the century, with the shows, the secrets, and maybe a bit of magic thrown in.
Serial Novella – Kevin Lucia
And I watered it with Tears, Part 4 – In this conclusion to Kevin Lucia's novella, Andy and Dequan try to find the reasons behind the deaths in their prison, before they become victims themselves.
Shadows in the Attic – J.F. Gonzalez
On The Horror Show – In this installment, J.F. tells us about The Horror Show, edited by David B. Silva and its importance in the horror genre.