Print – Kindle – Smashwords – Nook – Kobo – iBooks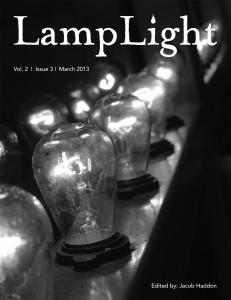 Our featured artist is Mary SanGiovanni. She brings to us a new story entitled "The Mime". Life has gotten more interesting for Jonathan Crowely in Part 3 of James A Moore's serial novella, The Devoted. J.F. Gonzalez talks about Weird tales, both its history and influences in Shadows from the Attic.
We have fiction from
doung jai
Tim W Boiteau
Alethea Eason
Lucy A Snyder
Featured Artist Mary SanGiovanni
Mary SanGiovanni brings a new story, "The Mime," to Lamplight. She talks with us about writing, her works and life in New Jersey inspires her.
Serial Novella, James A Moore
The Devoted, Part Three: Crossfire. Jonathan Crowely has found himself in the middle of a mess, which is where he likes to be. When his companion steps into a local dispute, things get interesting for both of them.
Shadows in the Attic, J.F. Gonzalez
Weird Tales and its influence, Weird-Menace, Early Horror Movies and Radio Shows. In this installment, J.F. Gonzalez takes you through the history of Weird Tales, the writers who were found in its pages, and the pulps that were competition at the time.