Print – Kindle – Smashwords – Nook – Kobo – iBooks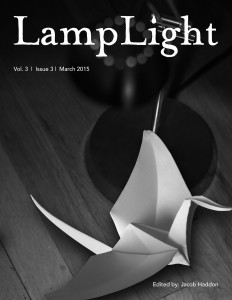 Our featured artist is Nate Southard. He brings us his story Bottle. Paper. Samurai. We talk with him about his writing, food and air drumming. Kelli Owen brings us part 3 of her serial Novella, Wilted Lilies.
Fiction from:
Damien Angelica Walters
Gwendolyn Kiste
John Boden
Kristi DeMeester
A father and son carry more than secrets through the generations. A sister leaves heartache after her suicide, and something else. Cancer, and a grieving family. A little brother won't look at his sister. All in this issue of LampLight!